Our Farm
Well Hung News
The Beef Magnet
To help us support local farmers' markets and cater at regional events and festivals throughout the UK, we built the 'Well Hung Beef Magnet', our fully equipped and uniquely decorated mobile catering unit. It certainly looks much sexier than your average burger van and people are attracted to it from all around by the smell of beef and onions cooking on the barbecue.
Why 'Magnet'? Simple! Our customers are always drawn back once they've sampled our tender, juicy burgers and friendly service!
Well Hung and Tender on Facebook
We thought it would be good for our customers to be able to share their experiences of our beef, their cooking tips and generally stay up to date with everything that's going on at Well Hung and Tender.

So we have created a group for users of facebook – just search for Well Hung and Tender and you can join now!
Marathon Man
Donald completed the Edinburgh Marathon on May 31st in a very creditable 4 hours and 10 minutes. It was a very warm day but he still managed to knock 20 minutes off his London Marathon time. He will most probably follow his RETOX diet and then he is sure to think of his next challenge!
Show Season
The show season is about to kick off. Look out for us at the Highland Show 25th-29th June, where we will be in the usual catering spot and showing calves.
Approved by the Stars!
"Well Hung & Tender beef is among the best steak I've ever tasted!", said Food Critic Tom Parker Bowles, from the Mail on Sunday. "Donald MacPherson's prize-winning beef is tender, succulent and packed with flavour. These prime Aberdeen Angus cuts are hung for at least four weeks and their meat boxes start at £45. This is superb!"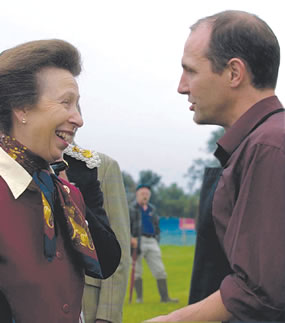 Donald having a laugh with Princess Anne
Alex Johnstone, spokesman for Environment and Energy, said, "To enjoy the real taste of beef, it must be well hung. Supermarkets sell beef that isn't hung at all and unfortunately consumers don't know any difference. It's good to see producers like Well Hung & Tender educating consumers about what they're eating and the level of produce they can expect".
President of the Scottish Association of Farmers' Markets, John Scott, supported the philosophy behind Well Hung & Tender beef by saying, "It's refreshing to see local businesses like Well Hung & Tender not compromising on quality in order to supply demand".
The Deputy Presiding Officer of Parliament and candidate for Dumfries in the upcoming election, Murray Tosh, stated "I wish I was as well hung and tender as your beef"!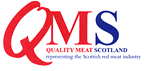 Donald and Sarah MacPherson
Castlehills Farm, Berwick-upon-Tweed TD15 1PB
Tel: 01289 303070 · Email: [email protected]

Buy beef online; buy prime mature Scottish beef online from Well Hung and Tender producers of prime Scottish beef, award-winning steak, topside, silverside and other cuts with exceptional flavour, using a unique blend of traditional and modern methods.